Paws & Tales the Animated Series 'A Closer Look' Receives the IVCM GOLD CROWN AWARD For BEST CHILDREN'S FILM
DENVER, COLORADO-- July, 2007
2007 Crown Award Winner for Best Children's Film (Gold)
From Chuck Swindoll and Insight for Living comes a story about celebrating our God-given abilities and the encouragement to use them to serve one another. Based on the popular radio series, Providential Pictures presents, Paws and Tales - The Animated Series "A Closer Look" - a 3D animated mystery your whole family will love!
Staci's conviced she doesn't do anything well. After all, she can't paint amazing pictures like Gooz or spell nearly as well as Ned. But when a mysterious gift is left on her doorstep, staci must use all of her skill to crack the case and reveal the gift-giver. It's a clue-solving adventure that will send Staci and her pals to the edge of Wildwood and back again!
Join the cast of loveable forest animal characters, from the popular radio series created by Insight for Living, in their second animated video and get ready for a funfilled, action-packed adventure that will help your cubs discover and appreciate their God-given abilities!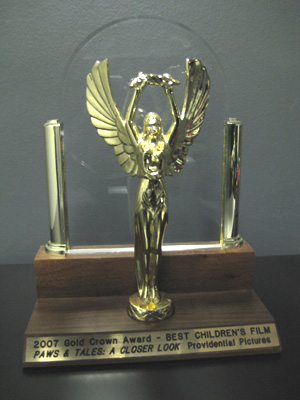 CONTACT INFORMATION
ICVM Crown Awards
7670 S. Vaughn Ct.
Englewood CO 80112
303-694-4286