Paws & Tales the Animated Series 'Seeing the Unseen' Receives the IVCM GOLD CROWN AWARD For BEST CHILDREN'S FILM
DENVER, COLORADO-- July 07, 2005
2005 Crown Award Winner for Best Children's Film (Gold)
From Chuck Swindoll and Insight for Living, comes a wild adventure full of fun, laughter, and learning for the whole family! Using cutting-edge 3D animation, Providential Pictures is proud to present Paws & Tales The Animated Series.
A camping trip on Wild Mountain becomes a life changing adventure for the Club (group of 4 young forest animal characters led by a wise, aging bear named Paw Paw Chuck) and their new friend, Wally. Surrounded by the beauty of the mountainside, C.J. (a bear cub) is surprised when Wally admits that he doesn't believe in anything he can't see – including God. With the help of Paw Paw Chuck and the others, C.J. tries to figure out how we can "see the unseen". At night, a fierce windstorm whips across the Precipice Lake, blowing over tents and trees. Paw Paw Chuck and the Club kids quickly scramble for safety. In an interesting turn of events, Wally sees first hand that what is 'invisible' is in fact, very real.
Join the cast of loveable forest animal characters, from the popular radio series created by Insight for Living, in their first animated video and get ready for a funfilled, action-packed adventure that will help your cubs discover how we can all know for certain that God is very real!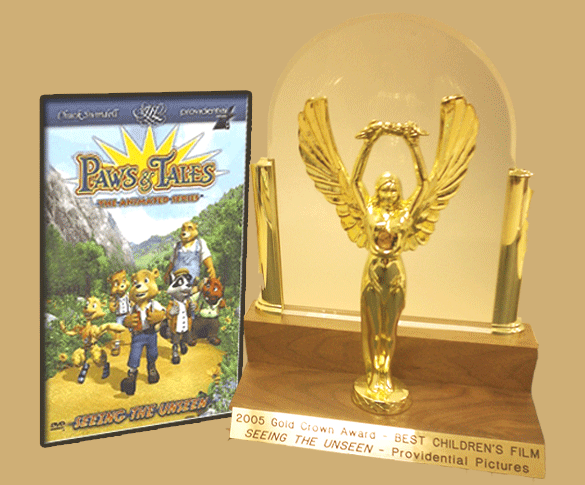 CONTACT INFORMATION

ICVM Crown Awards
7670 S. Vaughn Ct.
Englewood CO 80112

303-694-4286